Take advantage of your personalized Airline Ticketing System
TravelPro enables you to create your own Flight Booking
[Airline Ticketing] System. Our system supports integration of GDS and payment methods of your choice.
We have a team of expert developers who are seasoned & experienced professionals when it comes to API consumption and integration of GDS - Amadeus, Sabre or Galileo.
We Provide
Software Solutions.
Software Solutions, Mobile App Development, Chatbot Development, UX Design and Prototyping
We design, develop and deliver high-tech custom software solutions for Startups, SMBs and Enterprises.





What can we

build

for you?
We provide full-cycle software development for all types of companies from startups to enterprise clients. From MVP to Enterprise Level application, we fulfill our client's requirements with an agile approach using the best tools.
Respond to your

Customers

using our

Chat

Platform
Our interactive chatbot is a ready-made service, easily integrable with your website and messaging accounts, to respond to your customers' inquiries. 100% customizable and unique to your own requirements, our messaging bot helps you understand your customers better.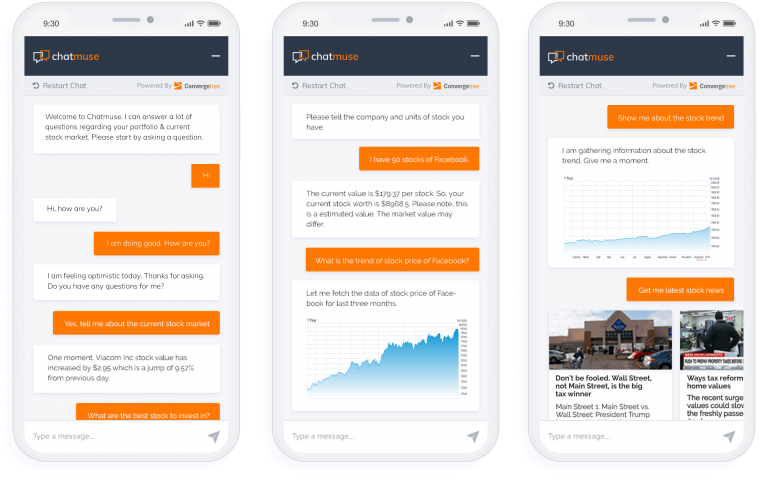 What our

clients

are saying

GSD has been working with Convergetree for around a year in developing and maintaining cloud solutions.
By complete and dedicate focus to these 3 key areas we have been able to deliver unparalleled value and a price that is at or below market value.
There is no other partner or team I would align myself with. The main concerns with going external have been clearly mitigated by using Convergetree and their team of excellent and highly qualified engineers.
Tyson Dymock
CEO | GSD Cloud Services

I have loved working with Birendra and his team; they get things done quickly, efficiently, understand complex projects or team dynamics and are all around great to work with. Not only are they awesome communicators and collaborators, they are also very accommodating. We wouldn't have been able to redesign our website so easily and effectively without them. Seriously loved having this powerhouse team on our side and walking us through everything from SEO to UX along the way. I will absolutely hire this team again!
Maria Kontgis
Studios Team Manager | Expertvoice

Working with skilled individuals is always great, but in combination with having a positive attitude and high engagement its a winning combination that I can highly recommend. We have a long experience of outsourcing but this is on a different level. 
As their team consists of skilled developers with wide knowledge from different frameworks and languages, we have been able to quickly together create the specifications needed and get started with a project.
Johan Windzer
Co founder / CTO | Event Logic